---
Free Printable WordPress Checklists
Download 4 free colorful guides full of helpful tips, best practices and advice on launching, promoting, securing and maintaining a WordPress powered web site! These guides are printable, easy to follow for both beginners and advanced WordPressers, and they're totally free!
---
Preparing your site for launch, Checking settings, coming soon pages, compressing images, checking mobile compatibility, load speed, and more.
Checking search engine visibility, SEO plugins, Yoast, Sitemaps, Header tags, Page Titles and Descriptions, Content Delivery Networks, and more.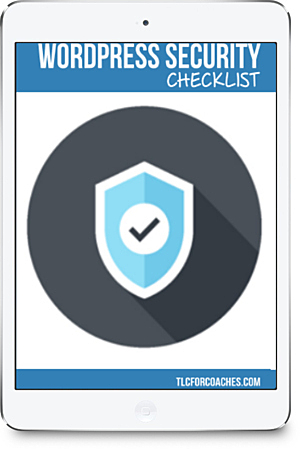 Quick and Advanced security methods, limiting login attempts, how to protect your WP-Config file, hiding login error messages, general tips, and more.
Keeping WordPress updated and error-free, general maintenance and management, statistics, handling spam comments and more.
---
These guides are available in our free membership. Sign up to get instant access to them (and a few other goodies!)
Get a Free Membership

By the way, you'll also get instant access to our 8 Social Media Checklists that walk you through setting up and optimizing your business on Facebook, Twitter, Instagram, Snapchat, Pinterest, Google+, LinkedIn and Facebook Live!
Frequently Asked Questions
---
We love helping coaches, virtual assistants and online entrepreneurs. We've been doing it for almost 10 years. Our main business is working directly with awesome clients and companies that
hire us
to do work for them.
We launched our online Workshop this past Summer to share 15+ years of knowledge and expertise on a variety of topics related to running an online business. Our goal is to help even more awesome coaches, virtual assistants and entrepreneurs – especially those who are just starting out or are on a budget.
If you want to learn more about us, go here. If you'd like to hire us for a project, go here.
No catch and no hidden charges. You'll get these resources (and more that we add in) for free for as long as you want. We do have a
paid premium membership
with even
more
goodies, but we don't harass you about it. It's there if you ever want or need it. If not, then that's cool – just enjoy the free stuff.
If you like what's here, please share this page and tell your friends!
We hate spam with a passion. We won't sell or rent your email address to stupid spammers (or smart ones either).
The only time you'll hear from us is when new resources are added. We also have a newsletter that we send out every once in a blue moon.
We use MailChimp and you can opt out of emails at any time.